Frequently Asked Questions
Where is your store located?
We are located at 1484B Dominion Road, Mt Roskill. Our Store Opening hours are Thursday  - Friday 12pm - 5pm and Saturday - Sunday 11am - 3pm.
How much does shipping cost?
We offer free shipping anywhere in New Zealand for orders over $100. Otherwise, we offer flat-rate shipping within New Zealand for $10.
Once dispatched, you will receive an email containing your tracking number. Please allow 2-4 working days for delivery once dispatched.
We also allow pickup for those who are nearby. We are located in Lynfield, Auckland. Please choose the 'Pickup' option at checkout. Once your order is ready, we will email you our address and organise a time for you to pick up your order.
Do you ship internationally?
Yes we ship internationally. Shipping costs will be calculated at checkout and has a timeframe of 3-10 working days. 
Please note, My Little Library will not be responsible for any custom duties or taxes charged by any international authorities to your order. Any fees imposed by international authorities are the responsibility of the customer. 
Can I request specific items to be ordered?
We welcome recommendations and requests. We will do our best to try and source these products for you.
Do you provide discounts?
We have a loyalty program called MyStarRewards, where customers can earn points to get discounts on future orders. We also have some items on sale which you can find in our sale section. 
Please also note, that 10% of all our profits are being donated to charities.
What is MyStarRewards?
MyStarRewards is the loyalty program for My Little Library. Sign in to MyStarRewards using the rewards button on the bottom right hand side of your webpage.
Earn points every time you shop! Every $1 spent earns you 3 points, so 100 points is equivalent to $1. You can redeem this with your next purchase. 
To get you started, you can earn 50 points by creating a My Little Library customer account. To do this, simply sign up using the customer login icon at the top righthand side of the webpage (next to the cart).
How do I find out about new products or sales?
You can follow us on Instagram and Facebook to get the latest updates at My Little Library. You can also subscribe to emails to be the first to know about new collections and exclusive offers. To do this, simply scroll down to the bottom of the homepage and fill in your email details. 
What if my items are damaged?
All products are personally checked by us for damage before being packed and sent. We also take extra care when wrapping items to make sure they are secure and protected during shipment. However, if you do have a faulty/damaged product please contact us directly so we can help.
My Little Library is not liable for any products damaged or lost during shipping. If you do not receive your order in the mail, please contact us directly with your order number and we'll do our best to help you resolve the issue.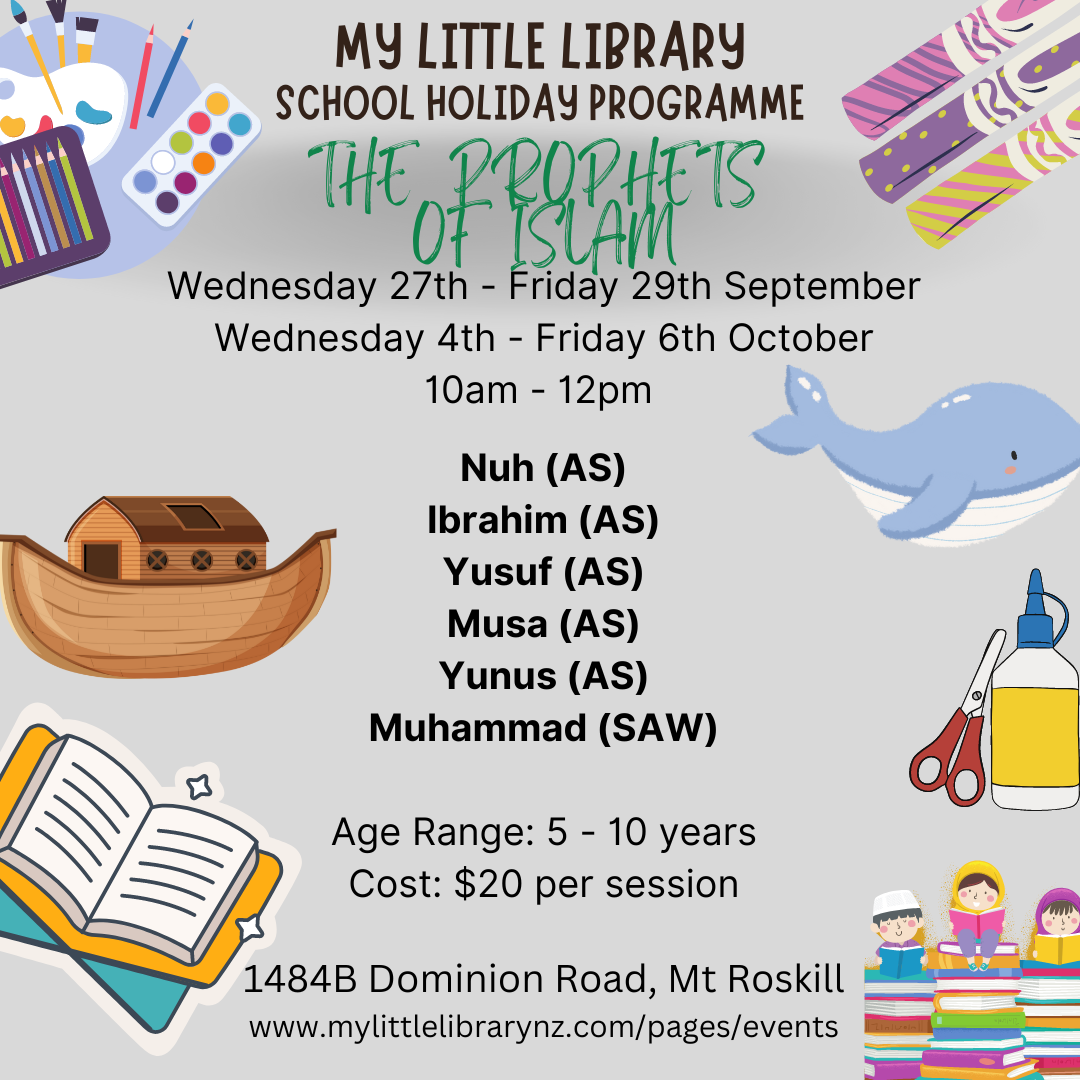 The Prophets of Islam
A fun and engaging way for children to learn about the Prophets of Islam.
Children get the opportunity to get creative through arts and crafts and learn about role models in our faith.
To register please complete the form.
More Information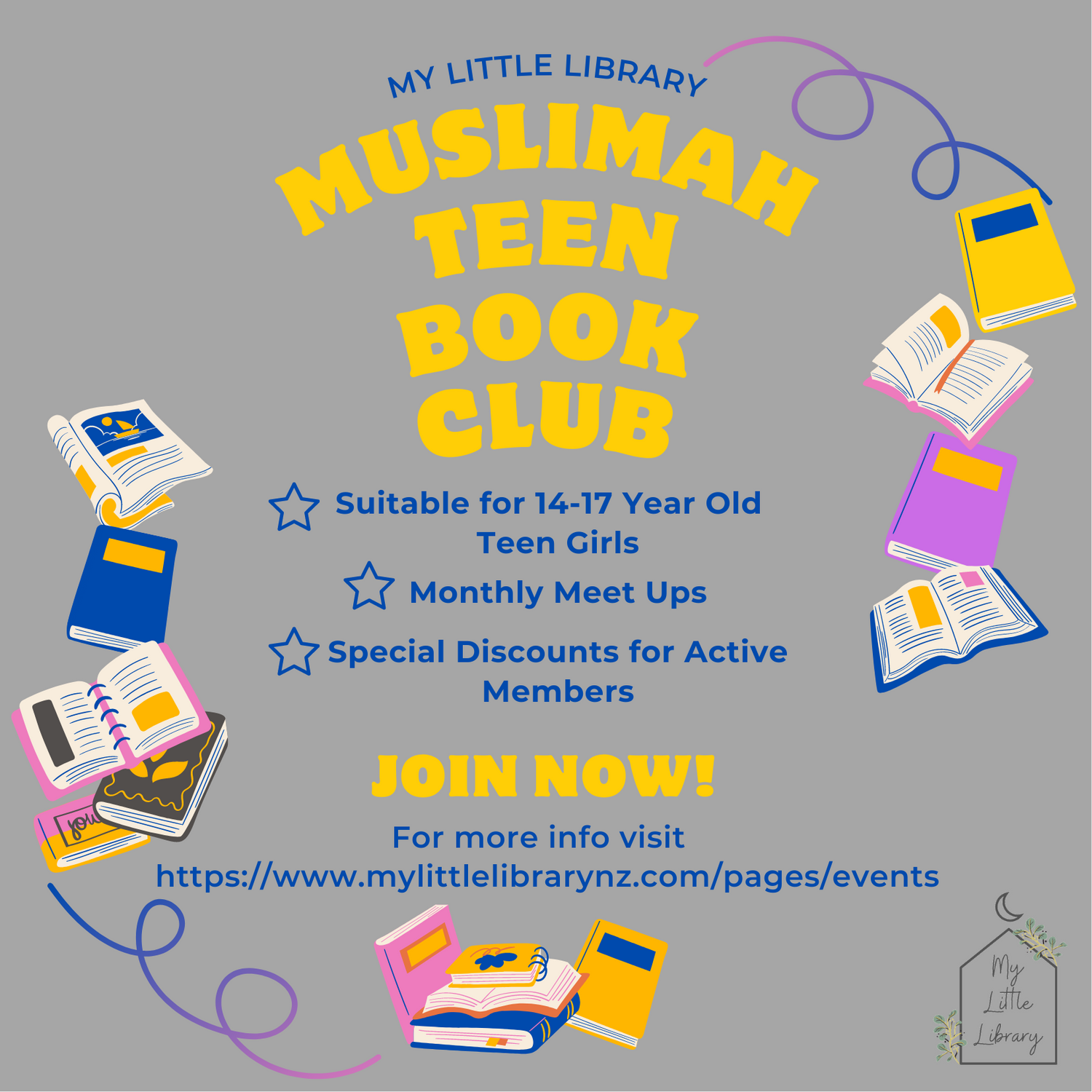 Muslimah Teen Book Club
A great way to connect with other Teen Muslimahs in Auckland.
Open to Muslim Teen Girls ages 14-17 years old.
Please complete the form below if you would join.
Find out more about this event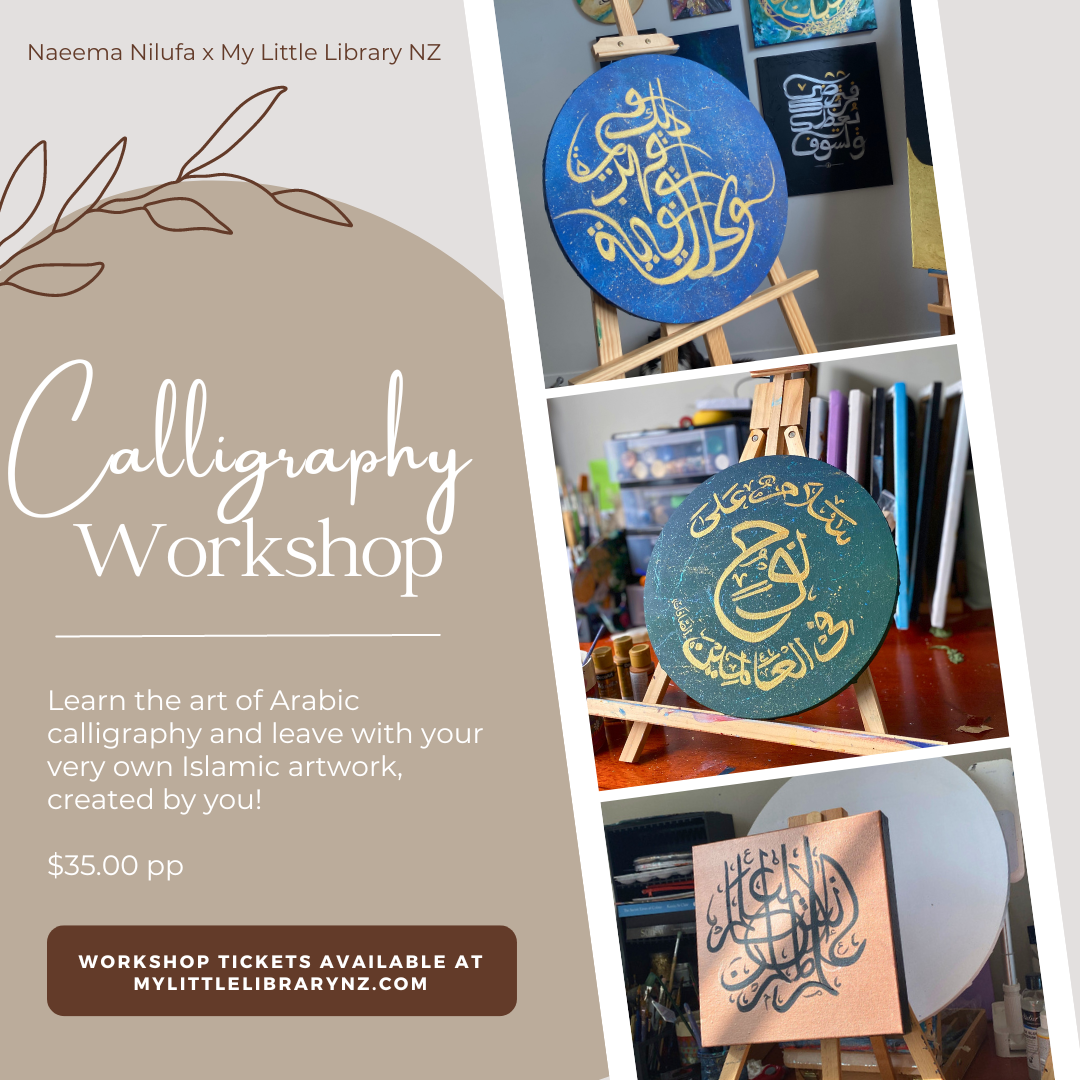 Arabic Calligraphy
Naeema Nilufa Art in collaboration with My Little Library NZ bring you Arabic Calligraphy workshops!
Find out more!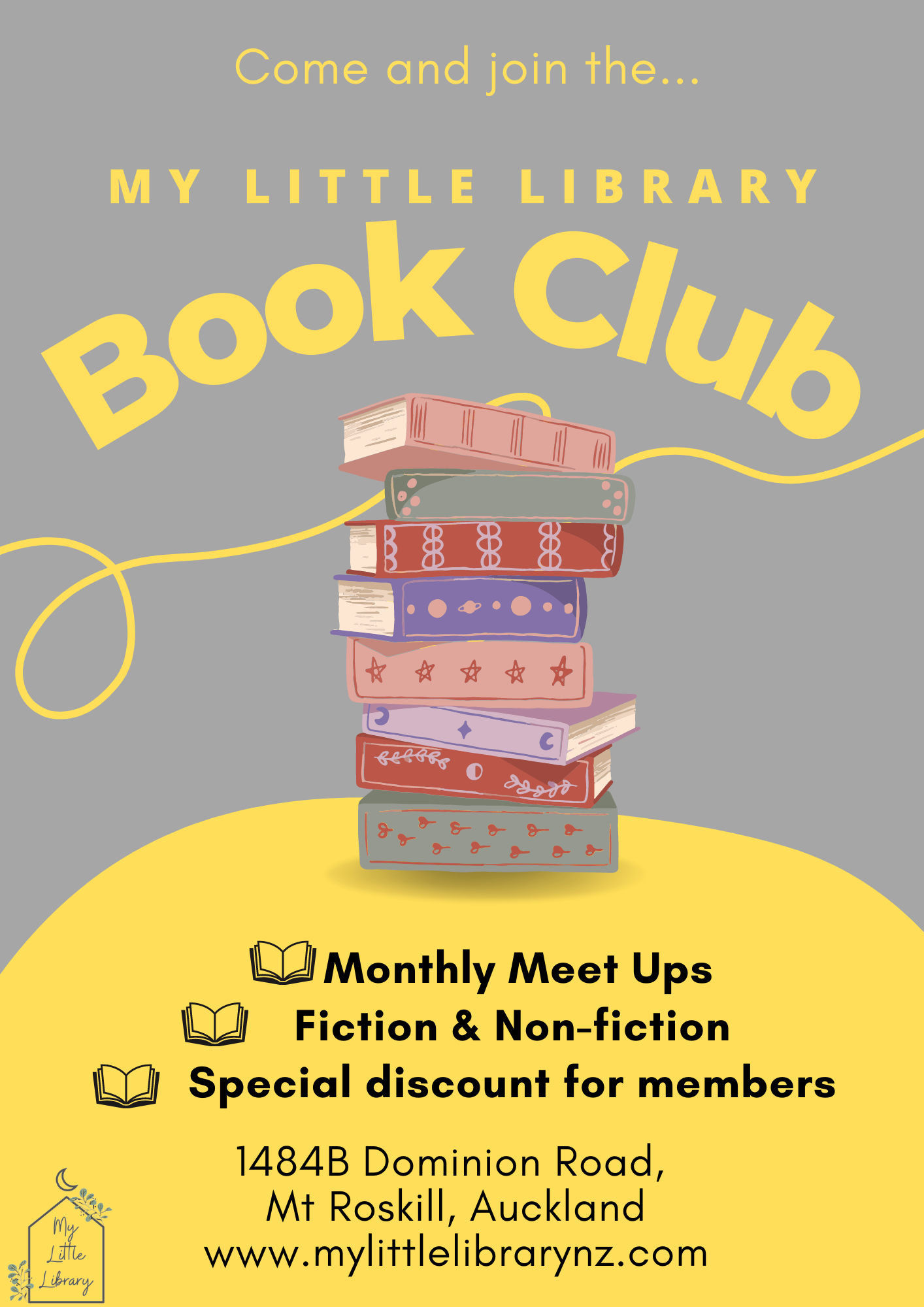 My Little Library Book Club
Connect with other Women over books and snacks at our monthly Book Club!
To join our Book Club please complete the form below
Join our Book Club!
Story Time with Saadiyah
Join Saadiyah from My Little Library for a Story Time Session.
Held on the first Thursday of every month at the My Little Library Store located at 1484B Dominion Road, Mt Roskill, Auckland from 11.45am - 12.15pm.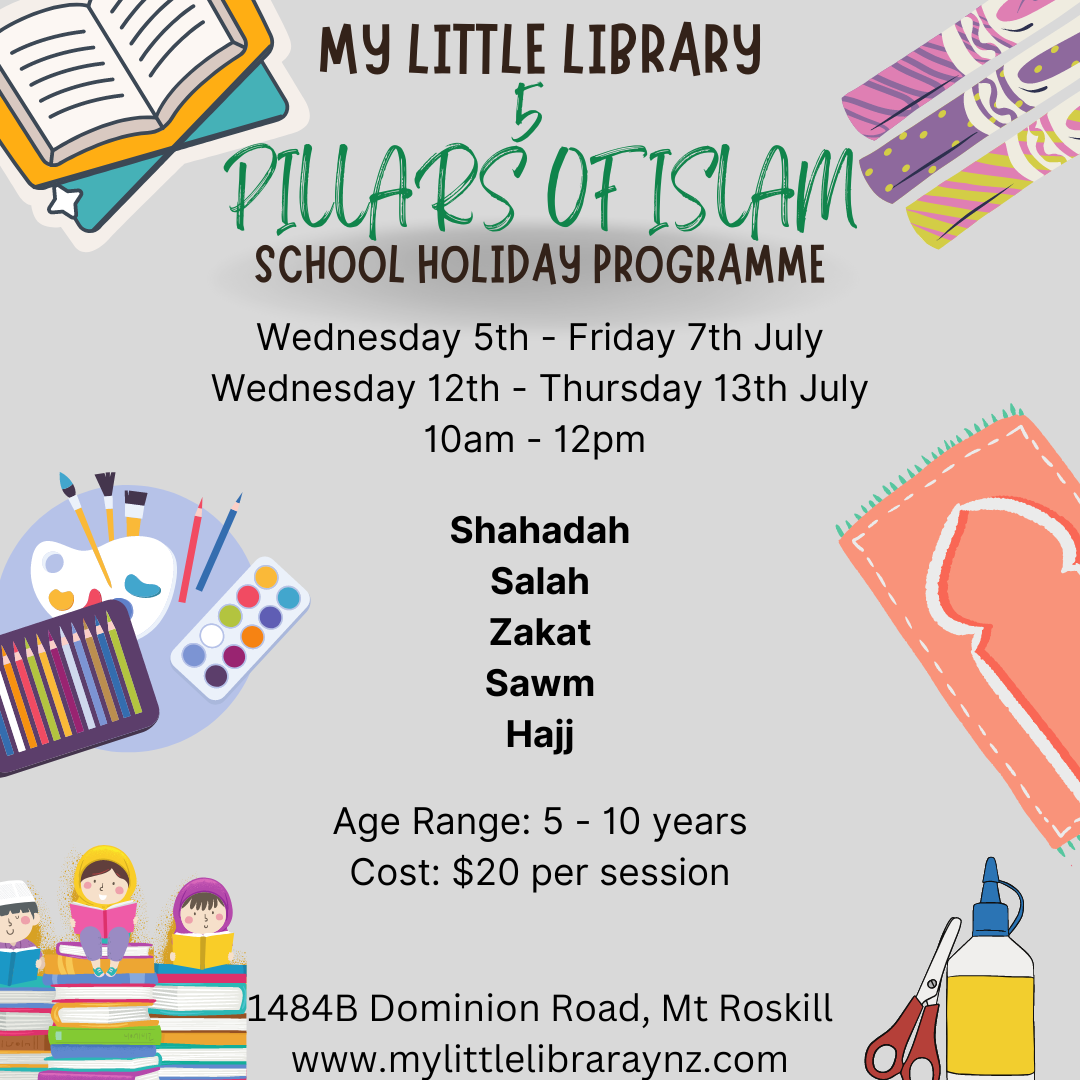 School Holiday Programme - 5 Pillars of Islam
A fun and engaging way for children to learn about the Five Pillars of Islam.
More Information