My Little Library NZ
Regular price
Sale price
$64.00 USD
Unit price
per
Sale
Sold out
The Clear Quran® Tafsir For Kids – Surahs 10-28
The Clear Quran for Kids is a unique presentation of the Qur'an edited by kids for kids. The third volume covers the Surahs of about 100 verses from the Qur'an, i.e. Surah 10 (Yunus) to Surah 28 (Al Qasas).
The Clear Qur'an for Kids utilizes the power of stories to explain Qur'anic passages with creative illustrations to capture the main theme of each Surah. It provides answers to some our kids' most challenging questions about their faith, their Creator, and the world around them through the use of hundreds of background stories and words of wisdom which make reading both informative and entertaining.
ISBN: 9781949505276Binding: HardcoverPages: 356
Share
View full details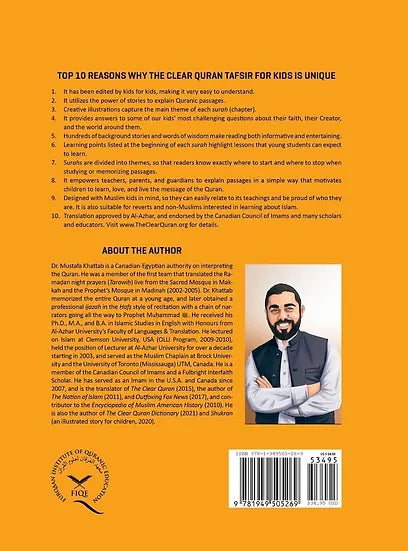 A beautiful book for children
Shopping online with My Little Library was a breeze. I have ordered twice and received my books within 1-2 days, carefully packaged. No damages. And I also gain points towards the next purchase. The best thing is that 10% of the proceeds go towards charity. Mashallah.
Hope to be a regular customer.
Fantastic purchase! An excellent learning support for different level. Love it!