My Little Library NZ
Regular price
Sale price
$48.00 USD
Unit price
per
Sale
Sold out
To read the Arabic text of the Qur'anic Verses in their correct form is of prime importance to every Muslim, as the meanings of the Arabic words are changed with little changes of the diacritics. So, to help those readers and reciters who are not too familiar with the Arabic language or cannot read Arabic, this edition of the Noble Qur'an is one that will be of benefit
The Noble Quran includes the transliteration of the Noble verses along with their translation. Each Verse has been put separately with its English interpretation. The Arabic text of the Noble Qur'an has been taken from Mushaf Al-Madinah An-Nabawiyyah, which has been printed by the Mujamma' of King Fahd of Saudi Arabia for the printing of Al-Mushaf Ash-Sharif in the year 1405 A.H., according to the instructions of the Vice-Chancellor of the Islamic University.
It is hoped that the readers will be able to recite the Noble Verses in more correct way taking the help of transliteration.
Translators: Dr. Muhammad Tagi-ud-Din Al-Hilah Dr. Muhammad Muhsin Khan
Binding: HardcoverISBN: 9789960740799Pages: 752Translation: Dr Muhammad Muhsin Khan & Taqi-Ud-Din Al-Hilali
Share
View full details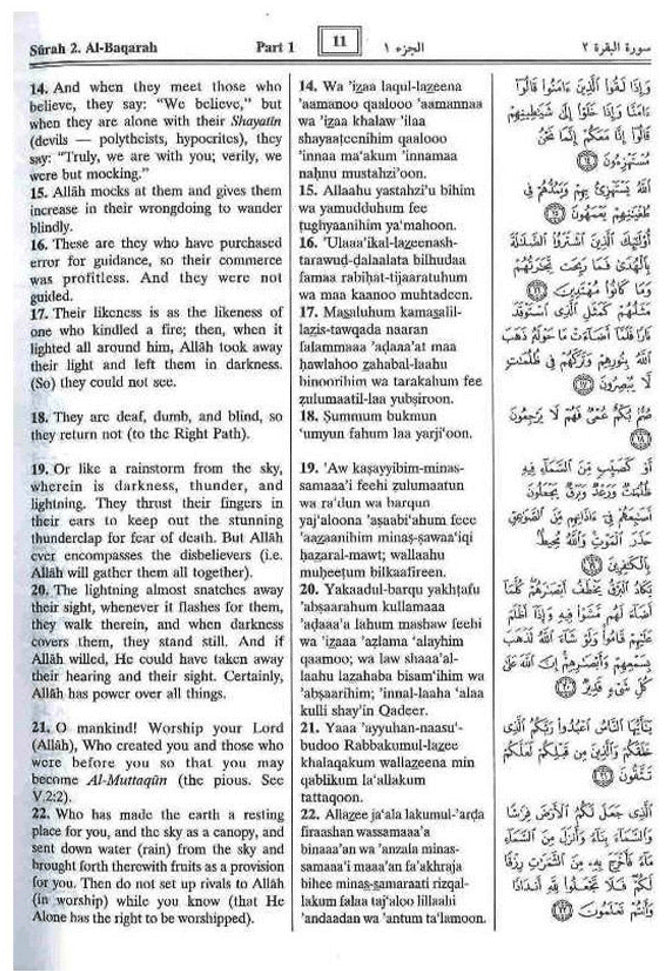 Good starter Quran
Great for converts like me who need the transliteration along side the Arabic and English. The only downside is that the Arabic text is slightly small. Still a great place to start!